Pesto Pasta with Grilled Chicken and Broccoli. This creamy pasta combines the fresh bite of broccoli with grilled chicken in a creamy almond milk and pesto sauce, and is equally good served hot or chilled. This post is brought to you by Almond Breeze. How to Make Creamy Pesto Pasta with Chicken and Broccoli – Step by Step Photos.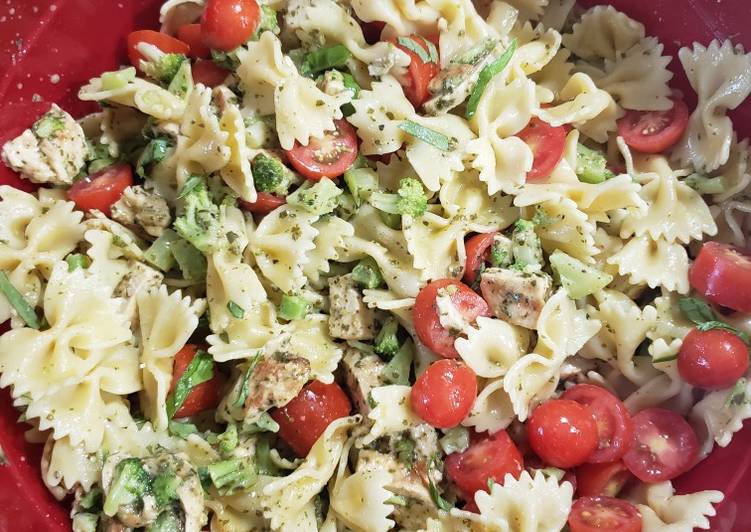 If the sauce becomes too dry or too thick, add. Hair dilemmas aside, I'm dying to tell you about this pasta dish! I went on a huge basil pesto kick several weeks ago because I literally had basil up to my eyeballs and what do. You can have Pesto Pasta with Grilled Chicken and Broccoli using 9 ingredients and 5 steps. Here is how you cook that.
Ingredients of Pesto Pasta with Grilled Chicken and Broccoli
You need of boneless, skinless chicken breasts.
It's of salt.
Prepare of pepper.
Prepare of farfalle (bowtie) pasta.
You need of basil pesto.
Prepare of cherry tomatoes halves.
It's of fresh basil chopped.
You need of Parmesan cheese.
You need of steamed broccoli, chipped.
While pasta cooks, heat oil in a large skillet over medium high heat. Place the pasta and broccoli back into the large pot. Add the chicken mixture, pesto and parmesan cheese. A mixture of pasta, broccoli, pesto, tomatoes and cheese that is practically a meal in itself, especially with the cooked chicken.
Pesto Pasta with Grilled Chicken and Broccoli instructions
Season the chicken breasts with salt and pepper. Grill the chicken until completely cooked. Transfer chicken to a cutting board and slice into strips..
Boil the pasta until al dente according to the package instructions. Rinse and drain pasta and set aside. (I usually pour a little milk over the drained pasta to prevent the pasta from sticking together).
Steam chopped broccoli and add it to the chicken and pesto mix.
Using a large bowl, mix together the pesto, pasta and chicken. Stir until well combined and place in the refrigerator until chilled..
Stir in the cherry tomatoes and fresh basil immediately before serving. Finish with freshly grated Parmesan cheese..
In a large bowl toss cooked pasta with blanched broccoli, cooked chicken, and garlic/tomato mixture. Add grated Parmesan cheese, salt, and ground black pepper and. Pesto is easy to make from scratch with just a handful of ingredients. Its fresh flavor is the highlight of this super-fast pasta dish, packed with cherry tomatoes and chicken. You can serve this delicious pesto chicken and veggies with pasta or rice or eat it with a fork like I do.