Coquito (Puerto Rican Eggnog). Coquito, also known as the Puerto Rican Coconut Nog or Eggnog, is a thick, creamy holiday drink made primarily with coconut milk, sweetened condensed milk, evaporated milk, rum, and spices. This is like the sassy cousin of eggnog with a tropical flair. Rum and coconut milk give the Puerto Rican twist on eggnog a Caribbean flair.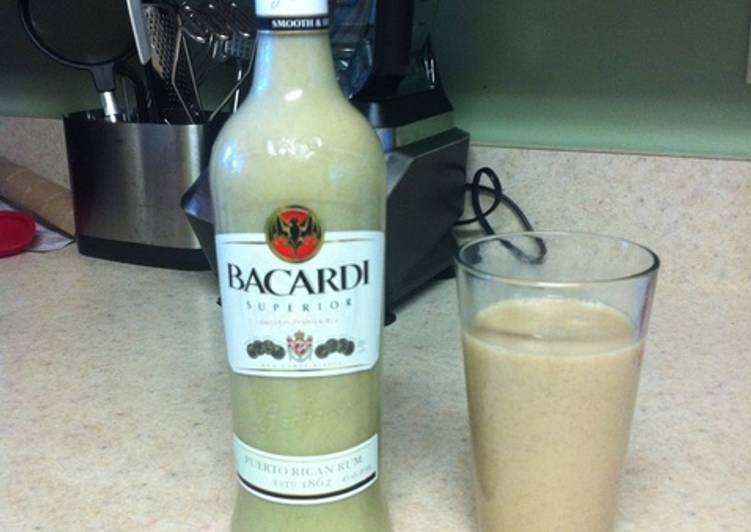 In this video i show you how to make a traditional coquito drink Recipe ,if you like eggnog you going to love this version better but no eggs and you can. Coquito is a traditional punch from Puerto Rico. It's often called "Puerto Rican eggnog" due to its very similar flavor profile and occasional use of eggs in some variations. You can cook Coquito (Puerto Rican Eggnog) using 7 ingredients and 5 steps. Here is how you achieve that.
Ingredients of Coquito (Puerto Rican Eggnog)
You need 1 can of Coconut Milk.
It's 1 can of Condensed Milk.
Prepare 1 can of Evaporated Milk.
You need 1 of box/can of Cream of Coconut (See Below).
You need 1 tsp of Cinnamon.
It's 1 tsp of Nutmeg.
It's 2 cups of Rum (Barcardi brand White, Dark or Black Rum).
This recipe is simple: coconut milk, rum, vanilla, and cinnamon. Coquito is a traditional coconut eggnog punch served at Christmas and New Year's celebrations in Puerto Rico. See how to make it easily without The creamy, sweet drink is similar to eggnog with rum but with the tropical element of coconut. Caroling groups stroll to visit friends and are happy to be.
Coquito (Puerto Rican Eggnog) instructions
In a large blender mix all the ingredients, with the exception of the rum, and blend everything together..
After all the ingredients are well blended, add the rum, then mix well once again..
If you don't have enough room in your blender transfer the mixture into a large pot, then add the rum, and use a large mixing spoon the blend the rum and the other ingredients together..
Bottle mixture and refrigerate for at least 6 hours to allow the Coquito to "thicken up" before serving..
I use the "GRACE" brand of Creamed Coconut for my Coquito. Gives you the texture of the Coconut with being overpowering. If you can't find this brand you can use any brand of Cream of Coconut..
This thick and creamy Coquito recipe is a Puerto Rican tradition that is loaded with coconut, rum and cinnamon for an extra thick and creamy coconut eggnog! It's infinitely better than any traditional American style eggnog I have ever had! An Authentic Puerto Rican Beverage If you like coconut and eggnog, you'll love Puerto Rican Coquito! Coquito is a thick and creamy coconut drink that mixes silky GOYA® Coconut Milk with sweet GOYA® Cream of Coconut Recipe Reviews. Coconut and rum flavor this tropical eggnog.