Leftover Mashed Potato Croquettes with Cheese & Green Onions. My Baked Cheesy Potato Croquettes are an easy bite-sized snack or side dish. Mashed potato, stuffed with cheese, coated with breadcrumbs and baked until the cheese Leftover mashed potato – it's best if it's chilled. Cubes of cheddar cheese – go for strong/mature cheddar for a deeper flavour.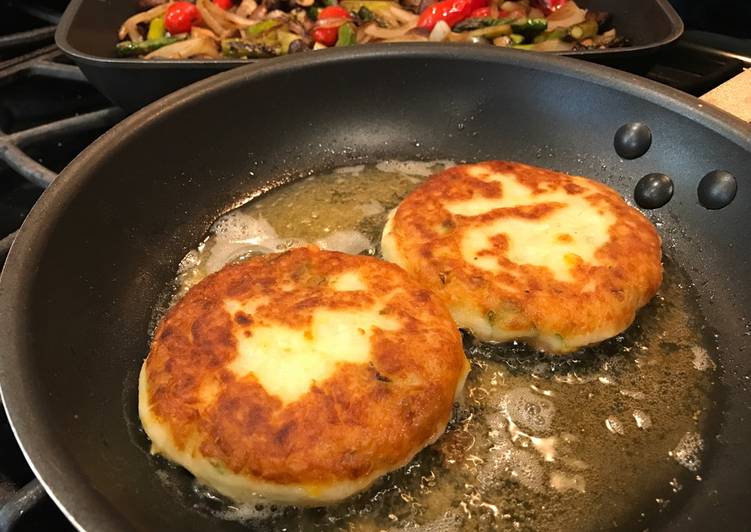 These leftover mashed potato cakes are crazy delicious. The outside of these leftover mashed potato cakes is light and crispy with a touch of cheese-melted-onto-the-side-of-a-pan taste. *If using leftover mashed potatoes, be sure your potatoes have a bit of butter and milk mixed in and were seasoned with salt and pepper! **If it takes any longer, the cheese and potato will begin to melt and soften, leading to deformed croquettes. You want them to turn brown pretty quickly. You can cook Leftover Mashed Potato Croquettes with Cheese & Green Onions using 10 ingredients and 7 steps. Here is how you achieve it.
Ingredients of Leftover Mashed Potato Croquettes with Cheese & Green Onions
It's of For the croquettes:.
You need 2 cups of mashed potatoes (firmly packed).
You need 1/4 cup of flour for the croquettes.
Prepare 1 of large egg.
It's 1/2-2/3 cup of grated cheese (such as Cheddar, Jack, Mozzarella, Colby Jack).
Prepare 1/4-1/2 teaspoon of salt.
It's 1 of large green onion, chopped (white parts, too).
Prepare of For coating and frying:.
It's 1/2 cup of flour.
Prepare 1/4 cup of oil.
And since I dislike mashed potatoes the next day, I think these croquettes are the best use for them. You hardly need a recipe, and feel free not to follow mine. Improvise by adding shredded cheddar cheese and chives to your mixture or diced up smoked salmon or even diced, cooked turkey. Potato Croquettes are deep fried mashed potatoes balls and are the perfect way to use leftovers.
Leftover Mashed Potato Croquettes with Cheese & Green Onions instructions
Put all ingredients in a large mixing bowl. (Try to sprinkle the salt evenly over the entire surface area of the mashed potatoes so you don't accidentally get a super salty bite.).
Get in with your hands (or a wooden spoon or spatula if you're not a handsy person) and mix everything thoroughly..
Divide batter into 4 equal parts and form each fourth into a roughly 4.5 inch diameter patty..
Heat the 1/4 cup oil in a fry pan to medium high..
While the oil is heating, coat the patties on all sides with a little bit of flour..
Fry the croquettes, two at a time, for 4 to 5 minutes per side. You'll know the oil's ready if you hear a gentle sizzle when you throw a pinch of flour into the pan. If you don't see that flour cooking and hear it sizzling right away, your oil's not hot enough yet and you should wait, otherwise your croquettes won't sear immediately, and they'll absorb too much oil and be greasy. If the croquettes are browning too much before the 3.5 minute mark, turn the heat down a touch..
Enjoy!.
They're basically just like adult tater tots, only better! Place the mashed potatoes, parsley and cheese in a large bowl and mix together. Place a rimmed baking sheet or large plate on the table. Potato croquettes are simple, easy, and delicious. They are a great way to use up leftover mashed potatoes.