Asparagus & Mascarpone Linguine. Asparagus is the name a genus of plants within the flowering plant family Asparagaceae, as well as a type of vegetable obtained from one species within the genus Asparagus, specifically the young shoots of Asparagus officinalis. A multitude of cultivated asparagus bundles. Asparagus is one of the first plants that greets us in springtime!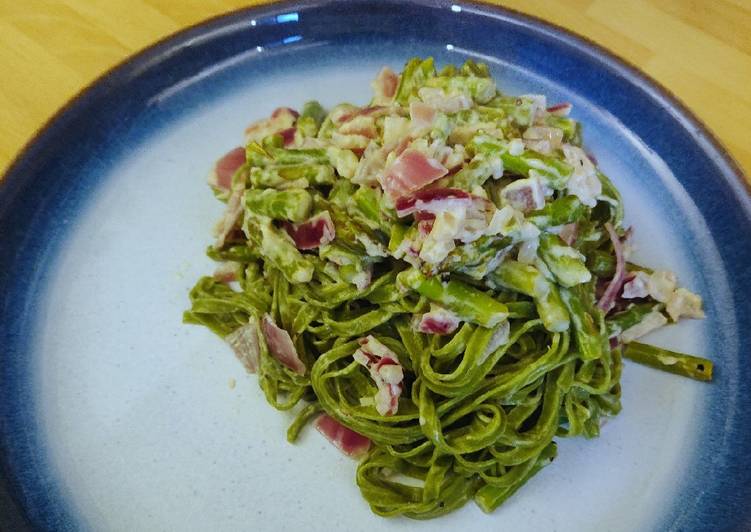 The garden asparagus is widely cultivated as a vegetable for its succulent spring stalks. Asparagus is one of the first crops of spring harvest. Here's everything you need to know about growing asparagus, whether you start from seed or spear. You can cook Asparagus & Mascarpone Linguine using 8 ingredients and 5 steps. Here is how you achieve that.
Ingredients of Asparagus & Mascarpone Linguine
You need 200 g of fresh pasta (preferably tagliatelle or linguine).
You need 125 g of asparagus tips.
Prepare 125 g of mascarpone.
It's 1 of red onion.
Prepare 3 of large garlic cloves.
You need 50 g of butter.
You need 50 ml of white wine.
You need 50 g of Grana Padano.
Asparagus is one of the first green vegetables to come into season at the end of winter, and its presence in markets heralds the start of spring. Broiled Asparagus Coat asparagus with oil, salt, and pepper, transfer to a sheet tray. Spring is the best time to purchase asparagus, between. Asparagus Has A Nutritional Uniqueness that is Second to None.
Asparagus & Mascarpone Linguine instructions
Chop the asparagus tips into inch long pieces, chop the onion and add both to the pan with the butter and fry until the onions are nicely softened.
Chop the garlic finely and add to the pan for two minutes.
Pour in the wine, add the mascarpone, add pepper to session and continue to stir.
Add the pasta to salted boiling water and boil according to instructions (usually 3-5 minutes).
Strain the pasta, add to the mascarpone mix, stir until the pasta is coated. Add to a plate and grate the grana padano over the top.
A former member of the lily family of plants, asparagus now has its own plant family named after it—the Asparagaceae family.